My family drove to Kisarazu City. On the way, we saw cherry trees blossoming here and there. We passed through a narrow road full of refreshing smells of Japanese cypress. We arrived at the top of the hill where Heiyasan Kozoji Temple is located. An elegant cat was sitting on the stone wall at the gate. It stood up and guided us to the premises.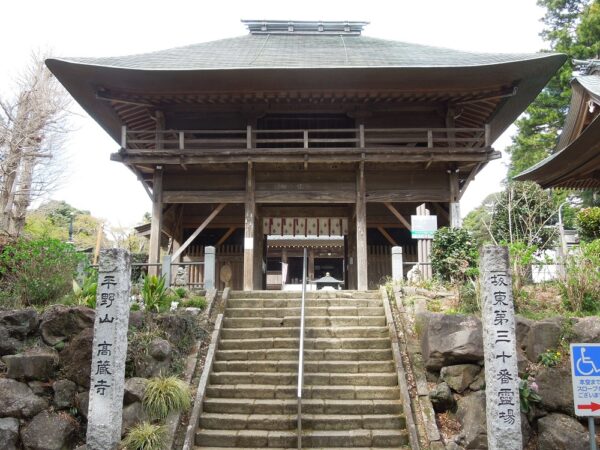 First, we cleaned our hands at a fountain. A gentle wind was blowing. We could hear the wind chimes making a lovely, soothing sound. While we listened to the chimes, the chief priest saw us and kindly guided us to the main hall.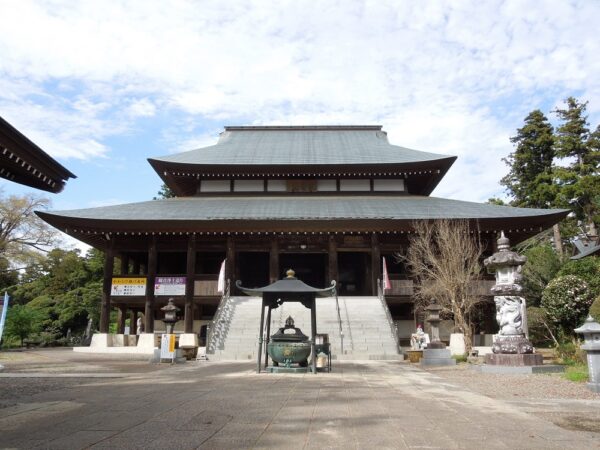 The temple is a pilgrimage site and is noted for its standing Kannon statue. The statue was carved out of a camphor tree. The main hall, which enshrines the statue, is on stilts. This allows visitors to see the statue through an opening from the ground. Below the raised floor are many artworks of heaven and hell. There are a lot of Buddhist statues and other objects concerning teachings of Buddha. I was inspired by the words on the walls. There were so many messages that I could not digest all of them. I would like to come back to take time to read more of them.
After leaving the art exhibit, I was overwhelmed by several gigantic camphor trees. When I looked up, they looked like huge buildings. My husband took a picture of me standing in front of them. I looked too tiny to find in the picture.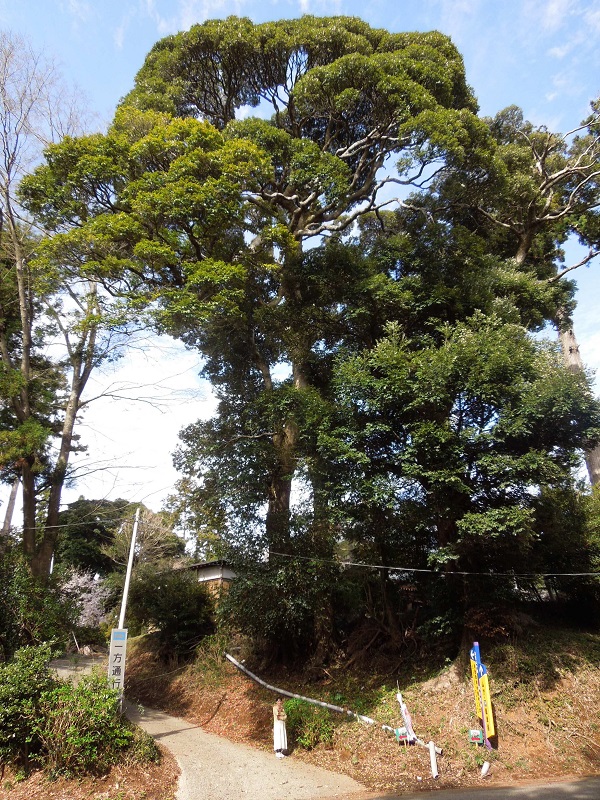 After that we visited another temple, Chorakuji. We strolled in the Japanese garden. Different types of cherry trees were blossoming in different colors. Orange trees were bearing their fruits. On the ground, we found Japanese butterbur scapes, horsetail shoots, and wild violets. I was excited to find countless eggs of toads in long strings in the pond. I fully enjoyed the peaceful springtime there.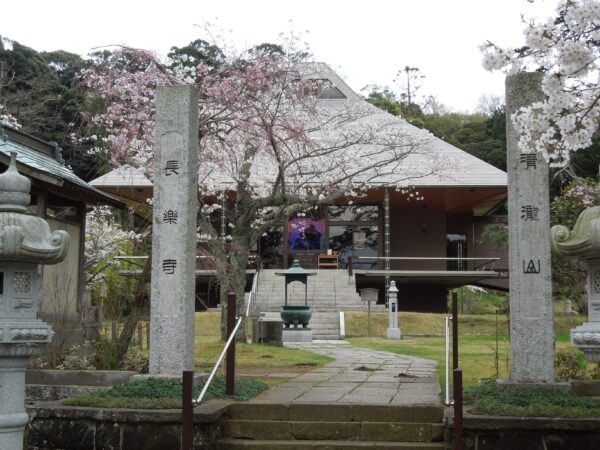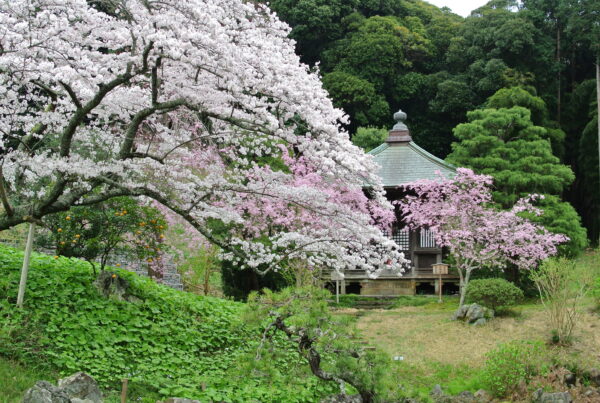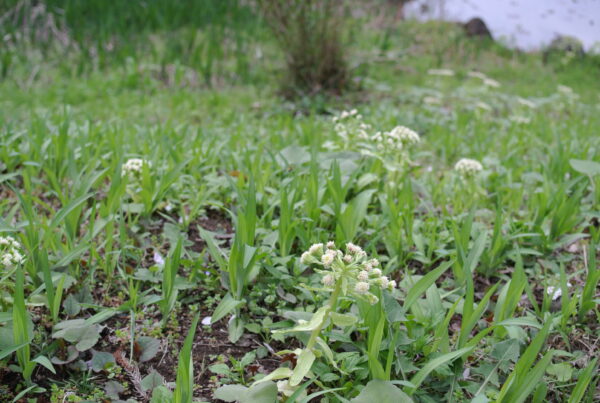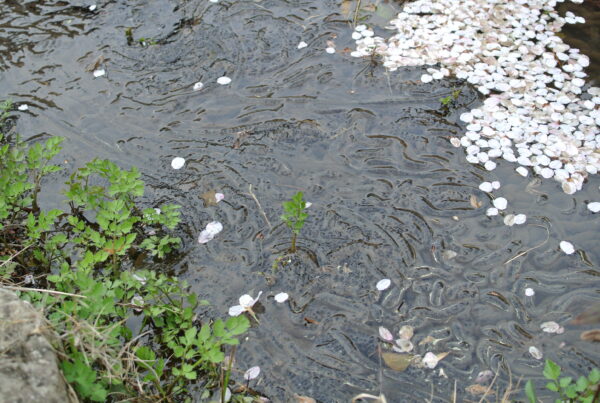 Lastly, we visited Otayama Park. During the cherry blossom festival, the cherry trees were decorated with vivid pink lanterns.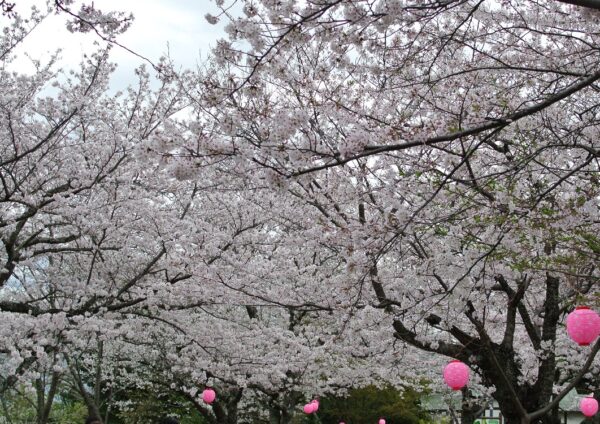 According to a legend, Prince Yamato Takeru missed his wife Princess Oto Tachibana, who lost her life in Hashirimizu, now Tokyo Bay, and he did not want to leave the spot where he lost his love. This is why the park is called "Woods of Love." From the tower in the center of the park, you can see downtown Kisarazu, Tokyo Bay, and Kanagawa Prefecture across the sea. When it is sunny you can even see Mt. Fuji.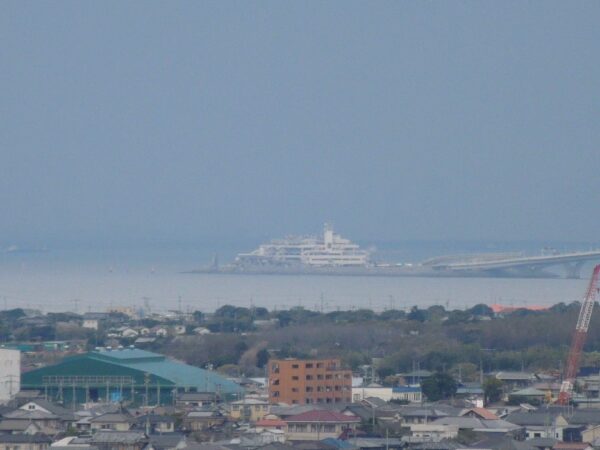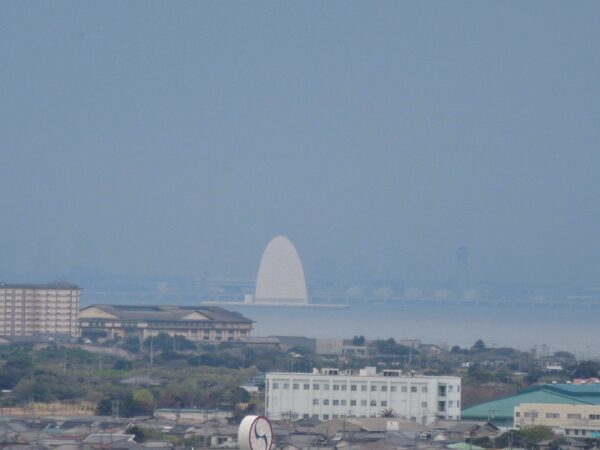 Also in the park is an old thatch-roofed house built in the mid-Edo period. The house fits in with the surrounding nature including cherry trees.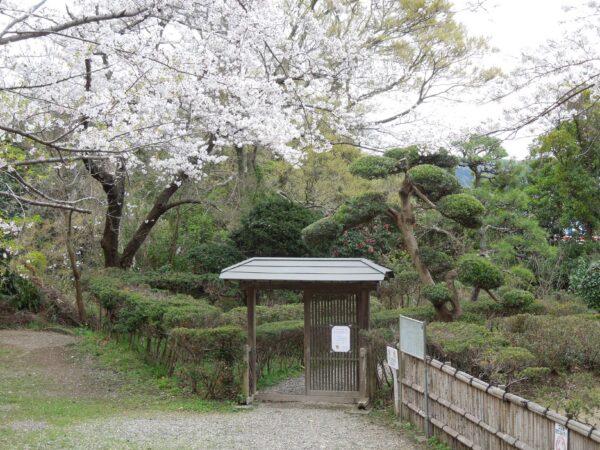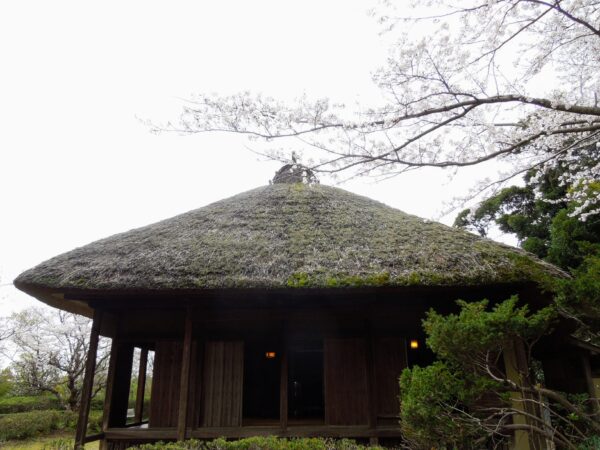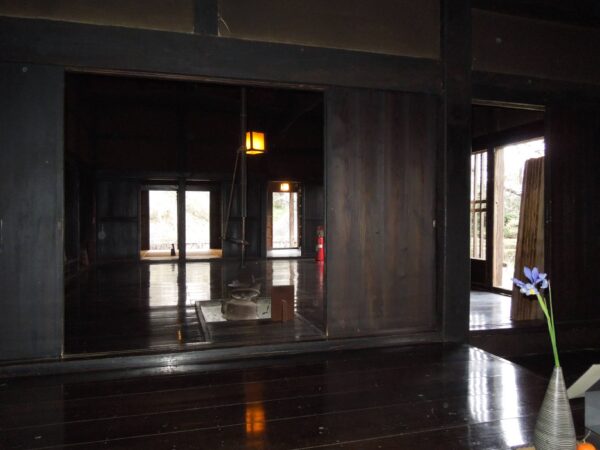 I noticed two crows perching side by side on top of the house. This is why I felt "Woods of Love" is an appropriate name for this park.